5 best crochet ideas for newborns
As I mentioned before, my BFF is pregnant! I spent a lot of time on internet collecting the best crochet ideas for newborns, all because I want to make a great gift to her with few crochet products handmade by me. That my friend is love!
In this article you will find the free crochet patterns for newborns that I chose to work on, and I currently have work in progress for all of them! I still have 7 months until she give birth so, plenty of time to make a big nice gift basket!
I decided to make the following crochet items for babys (which you will find links to all pattenrs, for FREE!):
Amigurumi baby rattle toy
Crochet baby blanket
Baby booties (I'm in love with them)
Newborn crochet sleeper (newborn sweater)
Crochet baby sleeping bag
Let's take a look into my selected FREE patterns!
1- Amigurumi rattle toy
Since you probably know by now, my thing is amigurumi. So, for start this post, I want to show the amigurumi crochet rattle pattern I create for her, it is colorful and fun to make! I believe will catch a lot of the baby attention once he start reacting to noises and colors!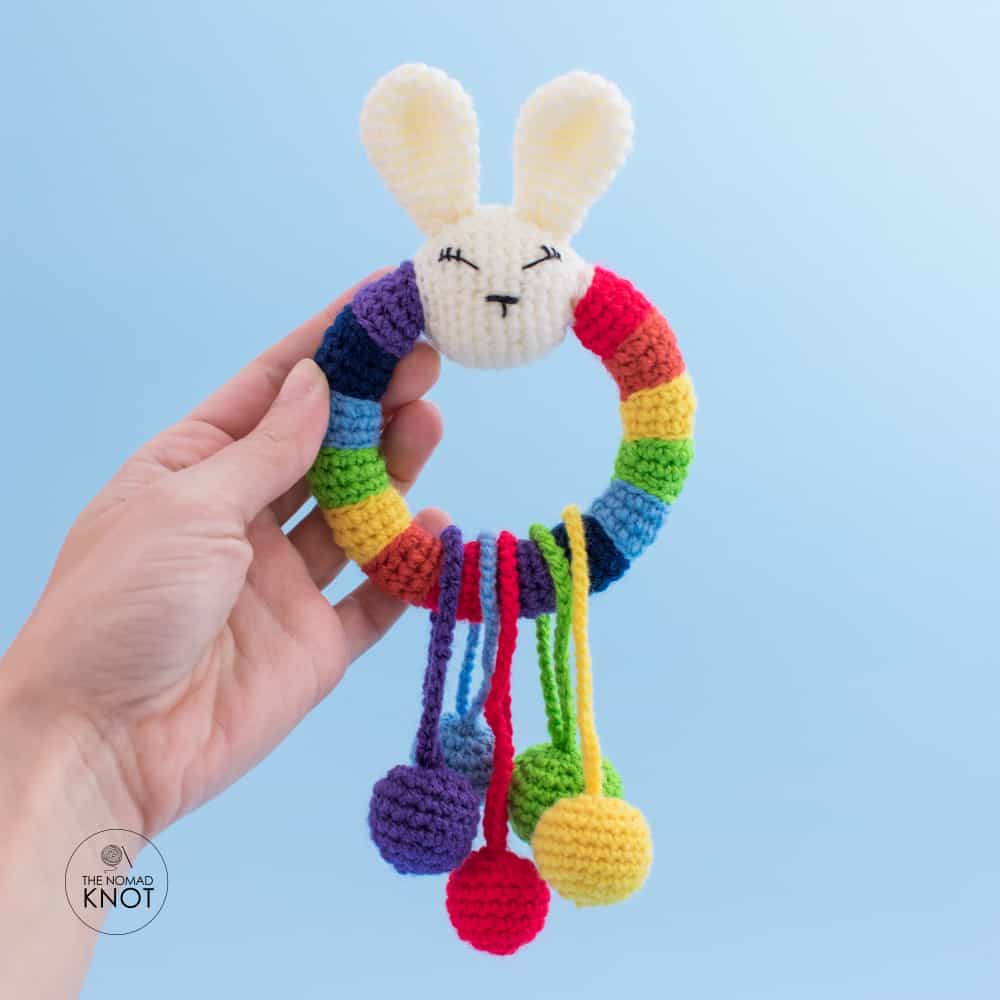 However, I do like to crochet different things, and first crochet idea that came into my mind was to crochet a baby blanket! Which brings us to:
2-CROCHET BABY BLANKET pattern
When you are searching for newborn crochet ideas, you get overwhelmed with so many beautiful options out there. And regarding baby blankets, I found this one by daisyfarmcrafts my choise!
She has an amazing quantity of different crochet blankets, and it was kind of hard to pick the one I liked the most to start working.
I chose this one because it is simple and beautiful pattern, and since I want to make many things, I don't want to spend too many days in one project. So, it seems perfect this crochet baby blanket for newborn!
And then, to match my just new inspiration for a baby blanket, I started searching for some crochet baby booties as well. And again, I was focusing in some beginner-friendly type of idea, not because I am a crochet beginner but, again, I want to make many things and give to her a pack!
3- Crochet baby booties pattern
Was when I came across this beautiful website called marchingnorth. The author is Crystal, and among many other amazing ideas she has in the website, I found this crochet baby booties that was just what I was looking for! It is minimalistic, simple and super-fast to make! I used the same yarn as the blanket (which I haven't finished yet) and it will become a beautiful set!
Because I am living in Serbia, the baby will be delivery end of this year, and will be already heavy winter, I started looking for some "sweater" that could be practical, warm, beautiful and easy (of course! Ahahha) to make.
4- NEWBORN CROCHET SLEEPER
I bumped into this website where I found exactly what I have in my mind! Her name is Ashela and she is from hearthookhome. The name is crochet newborn sleeper. This specific crochet idea for newborn pattern it's not only easy to make but it is also very practical for the parents, because of its easy access for changing dipers! Very well thought! Thank you Ashela!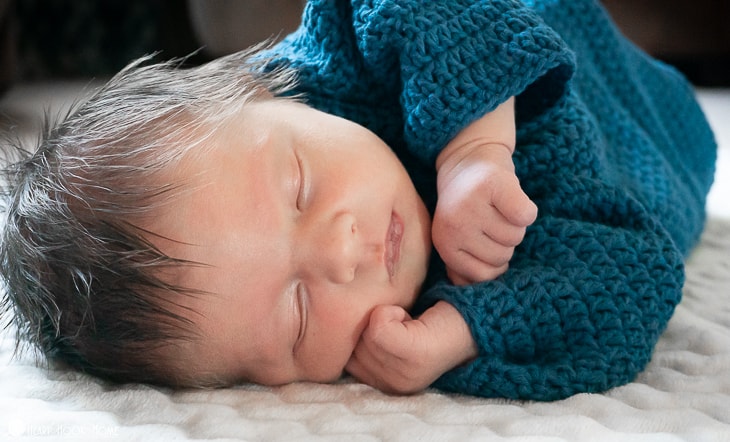 And last but not least, I found Lou from mallooknits. I wasn't searching exactly for a sleepy bag for newborn, but when I came across these crochet ideas for newborns pattern, I fell in love for her pattern, and I decided that I need that for my baby gift kit!
5- CROCHET BABY SLEEPING BAG
This crochet baby pattern sleeping bag is a perfect gift for winter, great size for newborns and, it can fit in a stroller. That's it, I was sold! I have to make one for her as well!
Look how amazing beautiful cute is this!!!
I am super happy making all of these crochet baby gifts!
When you handmade something for someone, all the love and effort you put into the work pass to the person you give the gift. This creates a bond, a love and a sentimental connection beyond imagination.
That is why I rather give handmade gifts then buy products made by huge companies. If I can't make the final gift, I would buy from someone who does spend time and effort to create a loving well thought product.
I hope you enjoyed my selection of gifts! And that I have inspired you to handmade gifts to your loved ones or to yourself!
See you next time! Happy crocheting!
Love,
Ana