Who loves gingerbread man put the hands up!
I separated here a couple of Gingerbread man crochet ideas to help you pick the best and suitable for what you are looking for this Christmas.
Also, something else that can help you is the 10 ideas for fast  (or let's say, last-minute) crochet gifts. This one is a time saver! You are going to love it! There are ideas that can be suitable for everyone!
Plus, if you need some ideas with your Christmas decoration, here goes my top favorite crochet ornaments that I'm sure you will find what you are looking for!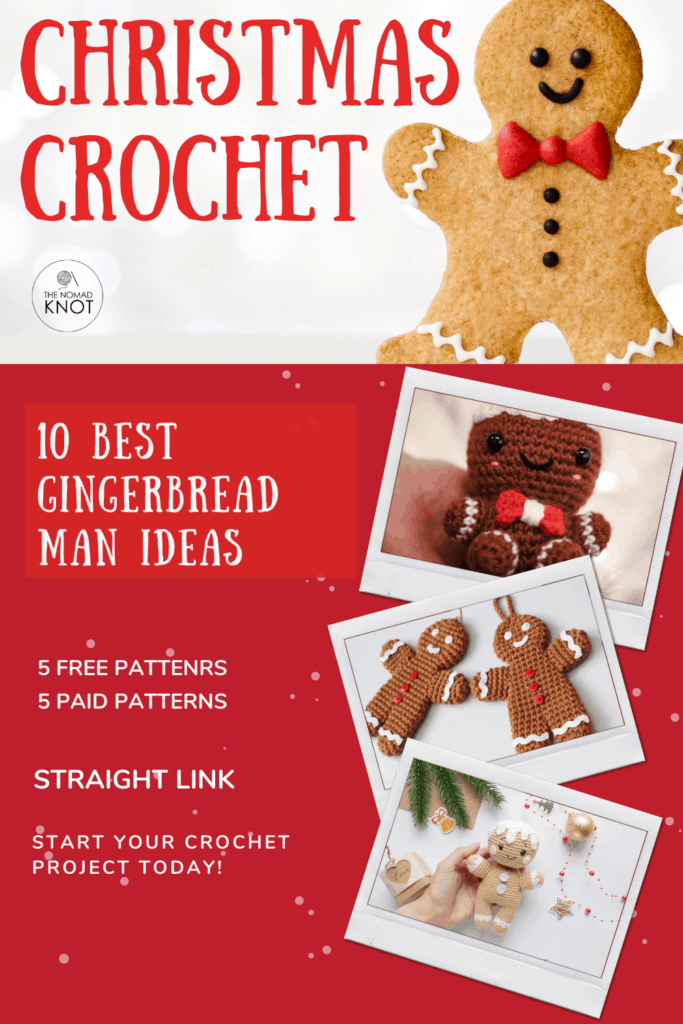 1- Gingerbread Man Ornament by Fei
Starting with this fast, cute, and easy to make, plus, is a free pattern by Fei from I heart Gantsilyo it's just a new beautiful charm on your tree! It is in mine already! Get the Free pattern here!
2- Gingerbread Man cookie by sarah
This one is literally the easiest one! So, if you are searching for something super fast, this is the right one to go. The free pattern is by Sarah from Repeat crafter me. Free pattern here!
3- MINI Gingerbread Man amigurumi
I don't know the designer's name but, how cute is this little amigurumi?! I would put not only in my tree but for sure this is turning to be a keychain! Free pattern here!
4- Charles the Gingerbread Man amigurumi
If you are looking for a bigger version of that amigurumi miniature, this one is super good to go! Designed by Vincent from knot bad (I love his website name!). Free pattern here!
5- Gingerbread Man Granny Square
6- Gingerbread Man amigurumi doll
An amigurumi doll version of a gingerbread man! Such a beautiful pattern! Design by Svetlana. For 5,10 USD on Etsy.
7- Cuddle-sized Gingerbread Man amigurumi doll
I finish with the perfect gingerbread man amigurumi for really gingerbread man lovers! A cuddle size amigurumi! Beautiful pattern design by Holly. For 5,25 USD on Etsy.
Take a quick look at my selections!