Welcome to The Nomad knot! Everything about amigurumi crochet patterns
Great news!!!
Little crochet farm will be shooting video tutorials for some of my free patterns! Starting with Sol! This beautiful mini ballerina doll! Subscribe to her channel for more!
NEW! The Gaulish Friends collection!
Three members of the Gaulish collection are already up! You can check the Asterix amigurumi pattern, Obelix amigurumi pattern, and the free version of Ideafix (the West Highland white terrier) amigurumi pattern!
Check the latest members of the Star Friends Collection
PACK OF 7: Get the seven amigurumi patterns from the Star Friends collection!
The originals are here! Darth Vader, Stormtrooper, Han Solo, Chewbacca, Princess Leia, Luke Skywalker, and Master Yoda. You can visit and purchase each of them individually or, you can head up to Etsy and get a great deal discount for their pack!
PACK of 8 amigurumi patterns from the Geek collection!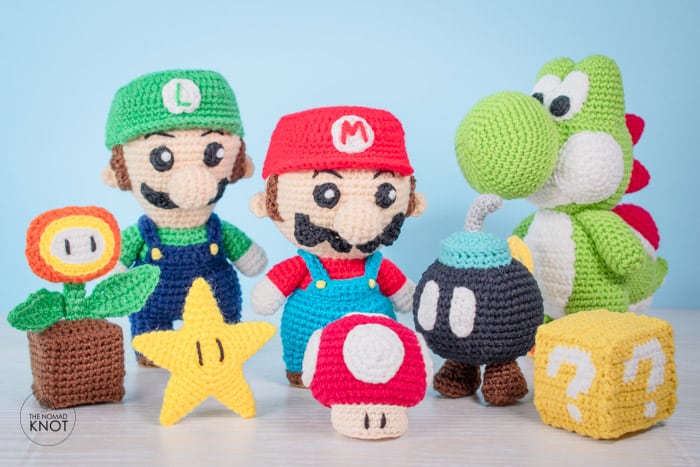 Meet the Geek Collection! Eight beautiful patterns that include Super Mario, Luigi, Yoshi, and four super elements for you to have an amazing collection!
PACK of 6 amigurumi patterns from the Allstars Basketball Players collection!
Basketball fans are going to be delighted with these hand-picked basketball players! Meet the crew of this collection with Jimmy Butler, Luka Doncic, Giannis, Stephan Cury, LeBron James, and the legend James Harden! Together, they form this awesome gift pack of amigurumi patterns!
Wanting to learn something new in amigurumi?
You may also like
Subscribe to The Nomad Knot YouTube channel!
---
---
Follow me on social!!!